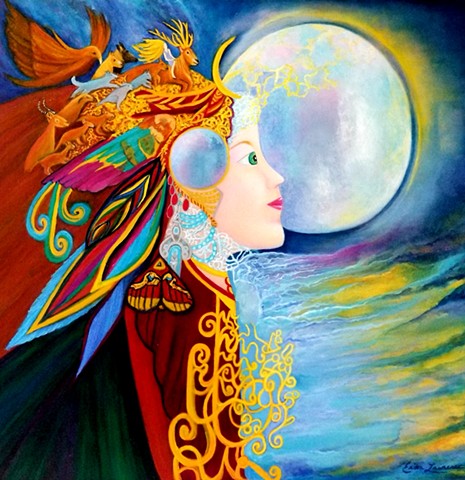 I was born in Hungary. During the Hungarian Revolution, with the help of the Red Cross, at a very young age with my family migrated to the United State. After several years we became proud citizens of the US and grateful to be able to start a new life in America.
I am a Visionary Artist known for my "Iconic" images and use of vibrant colors to express my "Art From Heart and Soul". My creations have an Eastern European style. My desire and the ultimate goal for all my creations is to "Capture the eye, delve into the essence of the mind, uplift the spirit and stir the heart of others." Trusting my inner guidance as my source and force I create the images after I go through a unique process.
This process involves several techniques that I use with a combination of colors to create one of my oil paintings. As I proceed I begin to see forms and images of faces ("Icons") slowly appear I then select the ones I want to paint. When creating one of my hand built sculptures I go through a similar process except that I usually decide ahead whether it will be a figure, a vessel or something else. However, the final result emerges as I continue with the process. Bringing one of my originals to life takes countless hours of blissful sculpting and/or painting.
"My passion for creating my Visionary Art can only be surpassed by acknowledging the privilege and gratitude I feel for being able to share my Art From Heart and Soul with others."
Erika Lawrence